Biden's Historic First Executive Orders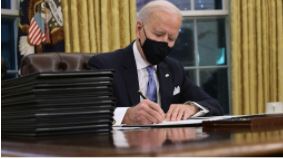 Within his first two weeks of presidency, President Joe Biden signed more executive orders than any modern president has in their first month, only a few short of Franklin D. Roosevelt's record high of thirty signed in his first month in 1933. Biden shared, "We're going to work to undo the moral and national shame of the previous administration," as many of his executive orders intend to overturn former President Trump's policies. He plans to work towards a better immigration system, COVID-19 control, equality, and a clean planet.
Immigration
One of Biden's first executive orders repeals former President Trump's order that justified the separation of families at the Mexico-United States border; this decision designs a task force that will take steps to reunify families. Biden explained that,  "America is safer, stronger, and more prosperous when we have a fair, orderly, humane, and legal immigration system." He also communicated that he hopes by signing these orders he not only reunites children with their families, but also re-establishes the country's "reputation as being aid for people in need."
This goes along with his other executive order to end the ban of travel from various Muslim-majority countries including Iran, Libya, Somalia, Syria, and Yemen.
COVID-19
Biden had made it clear before coming into office that the main focus of his new administration would be managing the COVID-19 crisis. In an effort to do that, he issued an order that expands and enhances access to COVID-19 treatment and another that requires people to wear protective face coverings when on federal property. He ordered that student loan payments be further halted until September 30 at the least, as well as interest, and that foreclosures and evictions be on pause until the end of March.
Equality
A decision that received a lot of criticism while Trump was in office was the ban of transgender military members. On January 25, Biden eliminated that ban in an order that stated it set "unnecessary barriers to military service" and issued an additional order that would work to prevent and combat discrimination based on gender identity and sexual orientation.
Hearing the Black Lives Matter movement, another order confronts systematic racism and advances racial equity and support for underserved communities through the federal government.
Clean Planet
Ever since June of 2017, there has been large controversy over Trump's announcement of the United States' pullout from the Paris Climate Agreement. The Paris Climate Agreement is a treaty between the United Nations Framework Convention that ensures the countries entitled to the agreement will work to reduce greenhouse gas emissions to keep the average global temperature from increasing two degrees celsius. President Biden rejoined the country to the agreement in an attempt to prevent potential disastrous effects as a result of climate change declaring that it is the "number one issue facing humanity."
Letting science lead the way, he ordered for scientific expertise to be involved in policy discussions and introduced his science team to be at the forefront of his administration as he believes "science is discovery. It's not fiction."
–
As emphasized during his campaign, Biden has fulfilled his promise of reversing many of Trump's executive orders. While in a signing ceremony, he said, "I'm not making new law. I'm eliminating bad policy." According to the Federal Register, as of February 4, he has signed twenty-nine executive orders.