Teachers adjust to virtual teaching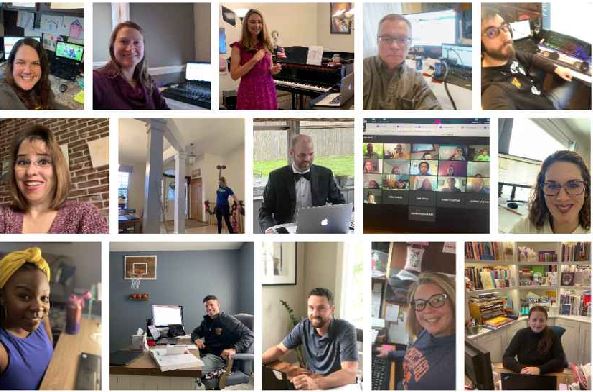 March of 2020, nearly a year ago, schools across the country were closed down due to the spread of COVID-19 teachers and students alike were sent home to continue learning and teaching. Teachers were faced with something they had never experienced before no matter if it was one of their first years teaching or one of their last. 
Teachers had to learn new computer skills and several new programs in order to conduct a class. On top of that most teachers chose to become teachers to impact the lives of students on a daily basis, but they were no longer able to see their students face to face. New programs, no time with students, but still the job must go on and for each teacher that looked a little different. 
Some classes are very hands-on like art, music and many electives. Core classes often involve partner work and projects that become much harder when all students do not have access to the same materials. The pace of class may need to be adjusted to fit needs of students virtually resulting in information being left out of units. These are all choices teachers had to make in order to teach remotely. 
A hands on elective such as fashion has faced some challenges with a remote learning setting but found creative ways to solve them. "Luckily we have been able to do supply pick up for students in order to provide them supplies for class. Even if a student wasn't able to pick up the supplies I provide alternative assignments so they can still receive credit for the projects assigned," said fashion teacher Ms. Cochran. 
Art classes are typically very hands-on as each student creates their own project with the materials provided. However, each student does not have a lot of art materials at home.  Ms. Angel has made most of her assignments by creating them on free digital platforms. "Artists are creative and flexible. I've found ways to create new projects with the technology available to us," Ms. Angel commented. 
Although teachers have developed creative ideas to combat the challenges of remote learning there are still things that students miss out on. According to Ms. Cochran, "Sending sewing machines home is not an option. Students miss out on using a sewing machine and since most students in Fashion Construction have never used a sewing machine before it is pretty impossible to guide students through a project that involves them, so instead I have relied on projects that can be done by hand." Ms. Cochran thinks that in the art classroom the biggest thing students miss out on is the creative, random ideas that come into your mind when you are in a room surrounded by art.
Core courses such as history are not immune to the challenges of remote learning either. U.S. History teacher, Mr. Leggero thought we would return to school after Spring Break in 2020, obviously he has had to make some adjustments just to teach remotely each day for almost a year. "I came in with the intentions of keeping the same standards as a normal in-person teacher, but as more students struggled with content while being remote, I have to slow the pace of the class down. Working in groups and different projects have been scrapped in favor of giving students all the work for the beginning of the unit to see what they need to complete each day and work ahead if they so desired," stated Mr. Leggero. He also believes that the classroom setting allows students to develop relationships with each other and their teacher and that is what students miss most by doing remote learning.
Teachers are facing challenges they never expected they would have to face, but they are doing everything they can to give students the best experience possible while still including the bulk of the class work they would typically give without stressing students out. The exact return date is still unknown but there is greater possibility that teachers will return to the building this March and will require teachers to once again, make necessary adjustments.