Coronavirus won't cancel Halloween, but it will be different this year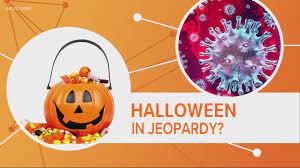 Halloween is all about tricks and treats, but with the possibility of cancellation on our minds, it seems this year's Halloween might be all tricks. However, you may be able to find a treat in the fact that even though it'll look different this year, Halloween won't be entirely canceled. Some Halloween traditions may not be possible, but there's a lot of alternative approaches to celebrating this spooky holiday.
Will county has recently had restrictions reinstated to protect the public, and while this doesn't correlate directly with Halloween, it could be a sign of further restrictions to come regarding the holiday. While there are no official statements regarding trick or treating and other traditional Halloween activities, it is likely that there could be in the near future to protect those wishing to celebrate the holiday. 
Managing the risk level is going to be an important part of partaking in Halloween this year. A small group of people wearing their masks outdoors celebrating would be a lot safer than a densely packed indoors party with lax mask usage. On top of that, while video call parties may be very different from traditional parties, they may be one of the best ways to protect yourself while continuing to have fun.
On top of small gatherings and zoom parties, there are some other fun and spooky activities you can participate in. Even if you can't get the full sized candy bars from the houses with the biggest Halloween inflatables, looking at the decorations can be fun by itself. If that doesn't sound too exciting, marathoning your favorite Halloween movies all night might be another choice. The Nightmare Before Christmas is a popular option, but if you think it's more of a Christmas movie there's plenty of other options.
No matter how Halloween looks this year, there are plenty of ways to celebrate in a safe and fun way. Remembering to manage your risk level and partake in activities safely is going to be a key element in the holiday this year. While Halloween might look very different this year, we can all hopefully enjoy Halloween despite the big changes.