Coping with Isolation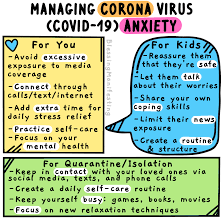 On March 29, President Trump stated that the social distancing guidelines shall be extended until April 30. This adds a whole month of isolation. Many people are bored with being at home, but it is for the safety of others and oneself. So for another month, what can people do to keep themselves occupied, and to keep being optimistic? Here's what officials say.
According to the author of On Grief and Grieving, David Kessler, the emotions of loneliness, and emptiness many people are feeling during this time, is considered grief. A similar feeling that much of the nation is suffering through during this time of social distancing. There are many ways to deal with this. It is important that we all find at least one way to deal with being stuck at home. 
A major tip that even I have found helpful, is to stop constantly checking the news. According to Forbes Magazine, it's advised to check up on current events just once during the day, and then change the platform. By being bombarded with the news can lead to your mentality to deteriorate. Instead, surround yourself with positive news or some form of entertainment. I try to focus on different apps, such as Tik Tok for instance. Some of which are really funny and keep my humor going. 
Isolation doesn't necessarily mean there can't be engagement. It's time to finally put our technology to use. One can go and facetime friends and family and talk about each other's days, or just keep each other company. You could even play iMessage games and keep each other occupied. If one isn't a fan of being on your phone, you can always go for a walk. According to officials, you can go for walks around the block as long as you practice social distancing. Getting some fresh air will be extremely helpful rather than being at home all day.
According to Forbes, we need to keep a constant feeling of accomplishment for the mind by indulging ourselves in activities we might have never tried before. Such as cooking, writing, or learning something such as a language. It is an "essential part of living" that we should continue to feel.
Lastly, as a part of social distancing, many have realized how much we miss our friends, families, teachers, and so on. It is healthy to let them know how we feel by telling these important people how much we miss them. It is a healthy way to express our feelings and to imagine how they will also feel knowing they are missed. We should let these people know we are grateful for them. Many things are unknown at this point, and all we can do is be by one another's side, not literally of course.
These times can feel lonely, if you let them, so don't be afraid to try something new! I've only named a few things, but I can assure that there are endless ways, so it is important to find what works best for you!