Eventful weekend for those who attended the Snowball retreat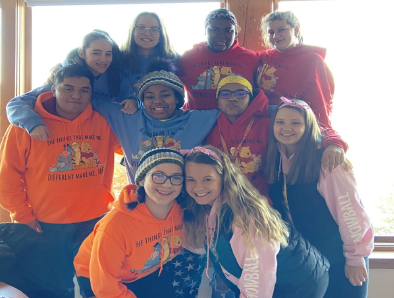 After months of planning for this huge event the day was finally here. Worried and excited the student leaders for this year's snowball welcomed fellow peers from each class into the auditorium for the start of this fun-filled weekend.
The event took place from February 14-16 and involved a weekend full of different activities. They started the trip off by meeting in the auditorium second period on Friday morning. The students in attendance were then greeted by leaders and staff as they waited to find out what group they were in, and what lies ahead for them.
Each year a different theme is chosen and, this year, it was based off Winnie the Pooh. The students could be put into one of four groups: Tigger, Eeyore, Piglet, or Winnie the Pooh. After they met that morning, they then found out who they were with and loaded up the buses for their two hour drive to Lorado Taft Lodges in Oregon, Illinois.
Most had no clue what to expect with this event, since this year a good amount of attendees were there for the first time. Making it an even more exciting weekend for all the new comers. However, this weekend was faced with many challenges for student leaders with having to plan 7 hours worth of small group activities, two full days of large group activities, rearrange their schedules after a bus change, and find a way to get hoodies to everyone after a delay. Even though it was a difficult task they all came together to help in the end. After overcoming these challenges, all that was left was to have a great weekend full of goofy adventures, and they had no trouble accomplishing that with their late night dance parties, no talent talent show, and creepy pranks in the woods
Sadly, as the weekend came to an end, many started to shed tears as this was the last year their sponsor would be in attendance. Ms. Burroughs has been in charge of 25 snowballs in total with this being her last as she retires this year. However, she does plan on helping and attending next year as the program carries on. With her retirement, many are concerned for the future of the club, but she reassured us that No Name and Snowball were never going away and that these amazing traditions will carry on after she leaves Joliet West this spring.