Dedication and Perseverance: Speech team takes first place at SPC tournament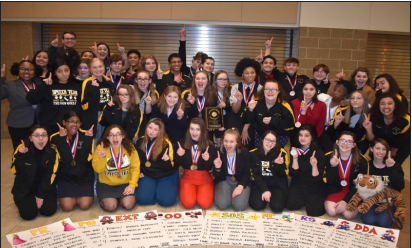 After a season full of dedication and perseverance, the Joliet West Speech team's hard work has finally paid off. They have placed top three at every tournament this season, including tournament champion at Oak Lawn's Noel in the O-L tournament back in December, the Burbank Cinematic Universe hosted by Reavis High School, and, most remarkably, first place at the Southwest Prairie Conference tournament hosted by Joliet Central on January 25. The team finished with 538 points, over 200 points ahead of the runner-up Yorkville.
At the SPC tournament, all fourteen events had at least one competitor from the Joliet West team break into finals. Of the thirty-one Joliet West finalists, seven were tournament champions in their event. These tournament champions include senior Diamond Reaves for Prose Reading and Dramatic Duet Acting with senior Kiera Posteluk, senior Hannah Nordquist for Extemporaneous Speaking, senior Anna Polacek for Impromptu Speaking and Special Occasion Speaking, junior Alexis Wajda for Original Oratory, sophomore Kennedy Dorris for Poetry Reading, and sophomore Tiffany Trizna for Radio Speaking.
After this major win, the team was headed to the IHSA Regional, hosted by Marian Catholic. Joliet West placed fourth overall, and twelve out of the fourteen events advanced to sectionals. Coach Kristin Blake reflected on this whirlwind season, "I'm really proud of all that our team has accomplished this season from a conference win, to three conference tournament championships, to twelve sectional qualifiers, this team has done amazing things."
Sadly, no member of the team advanced to state. However, this heartbreaking end to what seemed to be a very successful state series run does not disregard all of the success the team has shared this season. Despite this loss, the future looks very bright for the Joliet West Speech team.