BMIS/STEM trip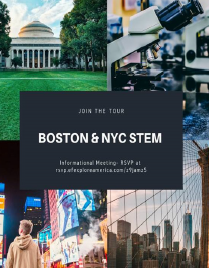 In 2021, Joliet West will be offering a STEM educational trip to New York City and Boston. The trip will give students hands-on learning and the chance to explore future careers in science, technology, engineering, and math. Students will also get the opportunity to see Times Square, watch a Broadway show, visit the MIT Museum and Wall Street, participate in a coding workshop, view the Empire State Building at night, and much more!
Mrs. Stapleton commented, "For years, I always was excited when students in band would travel to competitions or foreign language students would go to experience culture in Spain or France."
There will be a mandatory meeting on Wednesday, January 29 at 6:00 p.m. for those freshmen, sophomores, or juniors interested in attending. In the meeting, they will discuss the trip's itinerary, safety, benefits and how to enroll for it. Mrs. Stapleton added, "One of my goals has been to create an opportunity specific to the academies I oversee, BMIS & STEM. This year the STEM themed trip caught my attention; so, I went for it."
Don't let this opportunity pass and RSVP with this link: https://tinyurl.com/sjod8wz.
If you have any questions, contact Mrs. Stapleton at [email protected].