Students Rights in the School Setting Defined with New Law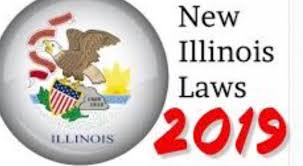 On August 23rd, 2019, Governor JB Pritzker signed a bill stating, before a school interrogates a student that is suspected of being involved in a criminal based situation, they must have a parent or guardian present when being questioned. 
The bill came into play in 2017 after the death of Naperville North student, Corey Walgen, took his own life after being questioned by school officials, without a parent or guardian present. Following their son's tragic passing, Maureen Walgren and Doug Walgren created the organization, Corey's Goal, which raises awareness about the constitutional rights of minors in the school setting.
Before the bill passed, Alondra Grimaldo (student at Joliet West) was questioned by Joliet West deans for an incident she was involved in at school, without her parents present. "I would have liked my mom to be there. I feel like if she was, the situation could've been handled more smoothly and I would've had someone there for me." 
According to CentralTimes.Org, a student from Naperville Central, Matt Blessing, didn't think that the new law would be beneficial. "The law itself is not going to prevent suicides. If you're going to (complete) suicide, you're obviously facing something else."
Senator Jennifer Bertino-Tarrant voiced her opinion about the law. "I think every attempt should be made to contact a parent or guardian if the student is being questioned with a serious offense that may lead to a suspension, expulsion, or later legal action." Rep Mark Batinick followed up on Bertino-Tarrant's comment by stating, "People under 18 have rights too. If there is some sort of serious interrogation going on, the parents should be involved." 
When Mark Hanson, Superintendent of Joliet Township was asked how students' rights are being protected in the district, he replied with, "Protecting the rights of students is something we take very seriously along with ensuring a safe environment for learning. Several boards of education policies focus on the protection of student rights." 
He continued on by saying "Our faculty is very professional, experienced, and knowledgeable in this area. I am very grateful to them, our SRO's, and community partners who take an active role in providing positive supports and interventions directed toward creating a safe environment for learning." 
With the help of Corey's Goal and the new law that has come into play, this gives students the ability to have a parent or guardian by their side if they are ever questioned by school authorities.