Hawkins spreads school-wide positivity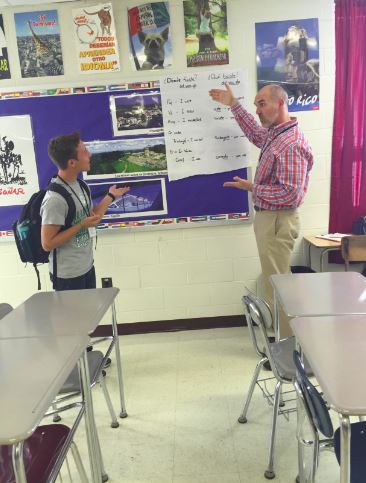 Señor Hawkins is a Spanish 3and 4 teacher and this will this will be his 22nd year teaching at Joliet West. Senor is a graduate from the University of Illinois at Chicago. He has a Bachelor degree in Spanish Literature and received his certification through a Masters program in Education. Although Señor Hawkins graduated with a Spanish degree he did not start out in college thinking he would ever be a teacher especially in Spanish, as his high school never offered Spanish classes. After high school he lived in Texas, where he was immersed in the Hispanic culture and found a passion for all that was happening around him. He took a Spanish class a Junior College, where his first professor introduced him to a whole new world that was unable to be discovered in the English language.
Within Hawkins' 22 years of teaching, he said, his most memorable moments are "When I hear that former student goes to study in a foreign country. It makes me feel as if I maybe was a part of opening their eyes to the opportunity. Life is always about opportunities and experiences and they are the things that memories are made of." Hawkins is a person all about the journey in life it is no surprise that he likes to keep things challenging by reading novels all the time. He uses novels to keep up on life while he uses his precious horse, Pride, to relax. Hawkins said, "I love my horse. He helps me smile and unwind in life. There is nothing like a ride in the country on a clear day with a blue sky and a cool breeze." Senor has such a passion for his horse along with his god kids. Hawkins doesn't dress up for Halloween but he takes his god kids trick-or-treating." Since they are getting older, I feel sad that sooner or later they are not going to want to go" he said.
Not only does Hawkins show his love outside of the classroom but also he is always showing love to his students. He is all about keeping smiles, positivity and laughter among the students in classroom.