English teacher takes passion for writing and sports to new level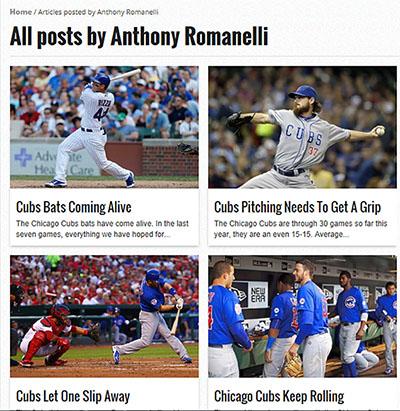 Joliet West's own English teacher, Mr. Romanelli, has landed a job at The Runner Sports magazine. Romanelli first heard about the job through a former student, and decided to act fast. After three writing samples and a video interview, Romanelli soon found himself as a new writer for the magazine.
Even though it has only been a month since he has got the position, not only has he written six impressive articles, he already has several new ideas to innovate the magazine. Romanelli stated, " A former student and I are collaborating, we're trying to get this Cubs Mail Bag going, it will be based of submissions we get in- well, it'll be great." This is just a little preview into all that Mr. Romanelli has to offer to the Runner Sports.
Although Romanelli said he does not plan to go higher in this field of work, he surely does show a love for the part time position. Anybody that knows Mr. Romanelli will see right off the bat that he is an avid sports fan. Romanelli stated, "I'm a fan of everything: Chicago Cubs, the Blackhawks, the Bears- there really isn't a sport that I don't love. The Cubs are my favorite of course." Not only is Mr. Romanelli allowed to be biased in his weekly articles, but he can write about any of his favorite teams that have played throughout the week.
On top of already having a deep passion for several sports, Mr. Romanelli has a passion for writing. He has worked at several other online sites already as everything from advice columns to improving search engines. Romanelli stated, "I think doing this job is at the top of my line… I get to write articles about something I love and watch almost every day." After talking to Mr. Romanelli about all of this, it is clear how much he loves both of his jobs.