Drafting assignment offers possibilities beyond classroom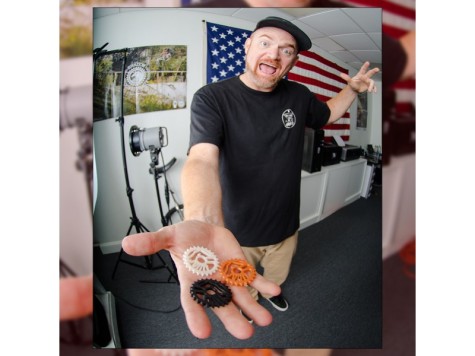 Since its conception in 1964, many talented students have walked down the halls of Joliet West High School. One of these students is Brett Blankenship, a drafting student at our school. Blankenship is a part of David Popeck's TechCAD class. In the class, students were given an assignment to create a logo based on their personal preference and turn it in. Blankenship's design is based off of a sprocket of a bicycle made by Shadow Conspiracy bike Part Company out in the state of Florida. After finishing off his design, Blankenship created a 3D model of the logo and then proceeded to 3D print it. He then posted a picture of the logo on social media, where it soon spread shortly thereafter and even caught the attention of the owner of Shadow Conspiracy himself, Ronald Bonner.
Bonner has recently reached out to contact Blankenship and complimented his design. He also told him to send him more copies of his design. Blankenship and Bonner are now in discussions to produce a cell phone case using the design that Blankenship has created. When questioned about Blankenship and what he plans to do with his design in the future, David Popeck said, "Brett has plans to design a phone case with a Shadow Conspiracy design and is asking their permission to do so". The company then sent a picture with Bonner holding Blankenship's design in his hand. If the picture is any indication, his future plans mentioned look bright.
Everyone here at Joliet West High School is very proud of Brett Blankenship's accomplishment and we can only dream of what the future has in store for him. After just this one small sample of what he is capable of, there are sure to be many more opportunities coming Blankenship's way in the future. One thing is for certain though. Brett Blankenship has caught the attention of a significant company and the possibilities are endless.