USF and West team up to help the homeless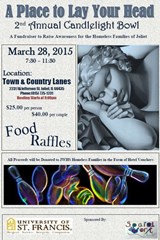 On Saturday, March 28, homeless families that have students at Joliet West will be aided through at Town & Country Lanes in Joliet. The University of St. Francis' Social Work Club will be hosting an even where the people in our community help support the homeless students that attend Joliet West High School. Donations will be made from the even and every donation counts and is greatly appreciated by the families.
This year is the 2nd Annual Candlelight Bowling event supporting the homeless students. The University of Saint Francis students had a class project to find a need, and they came up with helping the students here at Joliet West High School. At the fundraiser last year, there was a little over 100 people there, and over $4,000 was made to help out the families. As the night went on, 3 games of bowling were played as well as the shoes, and food being covered by the entrance fee. Donations were made by the sponsors, Berkots Super Foods and Hammers Sports Bar & Grill, the University of Saint Francis, and Basinger's Pharmacy, all contributing money. Donations were also appreciated from the Frito Lay Company and they gave chips, an iPad was given through some of the money collected, and a personal donation of a flat screen television. Sound Bar Chicago also gave a VIP night out for 10.
As the students of the University of St. Francis' Social Work Club look forward to the fundraiser, they have already began receiving donations from Linda's Pizza, which is 1 free pizza per month for one year, Hey Hot Dogs, giving t-shirts, Berkots Super Foods providing dinner, Chicago White Sox giving tickets, and the Chicago Bears giving a picture. At the event, there will be a variety of raffle baskets as well.
If it wasn't for Kathie Rick, Taylor Palomar-Barajas, Jillian Owens and Christine Nicholson, helping the homeless students of Joliet West would be nonexistent, and the moderators who encouraged the students to help those in need, Dr. Buster Ogbuagu and Dr. Lori McMeel.
As mentioned before, the USF Social Work Club has organized this support system to take place at Town & Country Lanes at 2231 West Jefferson St, from 7:30 to 11:30 pm. The price is $25 per person and $40 per couple. Every person available is really needed and anyone from the public is welcome. If possible, please bring out all of your family and friends to attend the event to help the students and families at Joliet West find a home!