Oswald and Sheehan on board to help AP program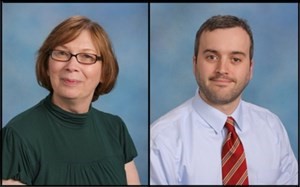 Paul Oswald and Janice Sheehan, AP teachers at Joliet West High School, have been accepted into the College Board's Advanced Placement Advocates Program. The program was designed in to "…create a cadre of AP teachers to help make the case for protecting and expanding AP in their schools and communities," according to the College Board's website.
Oswald, who has taught AP European History at West for 13 years, explained, "…whether it's in the school, whether it's in the community, whether it's in the state, whether it's in the nation…it's like a public relations piece that the college board has put together to go out and promote what the College Board does and what the Advanced Placement program does."
Sheehan, who teaches AP Composition and Literature, explained that one of the responsibilities of AP Advocates will be to communicate with policymakers across the country.
"Basically the AP advocates will be working with policymakers from around the country – I'm a state of Illinois representative – and the goal is to encourage more students to take Advanced Placement classes," she described, adding, "We also need educate our policymakers and to start to maintain… a sense of continuity through the state."
However, information about the specific duties of an AP Advocate is limited.
"It's just a brand-new thing, so I don't think there's a lot of information out there as of yet," said Oswald.
Sheehan also elaborated, "Because [the program] is so new and we're the inaugural class, we haven't received any of that information yet, so we're not exactly sure how this year's going to proceed."
The program, conceived in 2013 and first introduced in only five states, is still growing. The College Board expressed, "Our goal is to take this project to scale, by expanding the program to other states."
"…Illinois was… the most recent state to do this," Oswald described.
Both Oswald and Sheehan anticipate that their students may be involved in this project.
"My students definitely will be involved… not only my students but any students in the Joliet district will be involved, because we're going to be implementing the programs and we'll be one of the first schools to do that," explained Sheehan.
Similarly, Oswald believes that his students may take part in needs assessments and contribute their opinions of the program.
In addition to involving students, Sheehan says being a part of the AP Advocates Program may change the way that she teaches them.
She related, "I definitely do believe that it will change me as a teacher, because any time you're educated in any aspect of it, you do change… I'll also have a hand in making policy for the AP program, so I think overall it will definitely change my teaching."
Oswald says that the position directly relates to West's plans for the AP program.
"…I think it really was something that I felt strongly about because of what we're doing here at Joliet West… we're enlarging the program, we're making it accessible for more students, and that's basically what the AP Advocates Program is, so it's just an extension of that," he expressed.
Sheehan agrees. She related, "I like the idea of being on the cutting edge of what AP's going to be doing."