Alumni Association to host second annual 5k Santa Run
Hang on for a minute...we're trying to find some more stories you might like.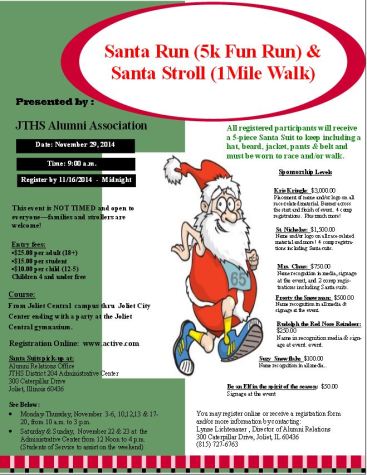 When we hear December's coming we most likely think of Christmas, New Year's Eve, Snow, desserts, hot chocolate, and of course we got to think about our good old jolly friend Santa Claus? Who doesn't love Santa Claus and most importantly who wouldn't want to come see Santa Claus'? Yep that's right I said Santa Claus'. And not just one Santa Claus but tons of them! If you come on down you get a chance to see all Santa Claus' tall, short, old, young running and walking around downtown Joliet! This event will be held on Saturday, November 29 at 9:00 a.m. This event is hosted by the Joliet Township High School Alumni Association. Anyone who participates will receive a 5-piece suit (must be worn) and in this suit you will have the following materials inside including a hat, jacket, pants, belt and no Santa Claus is complete without a beard. All guest and participants will being leaving Joliet Central High School field house. Any participants have of a choice of either doing a 5k run/walk or one mile walk/run. If you have a family or friend who is participating in this you are more welcome to take pictures with them! After all the fun and laughter, there will be refreshments! If you want to get into the Christmas spirit come on down to cheer all the Santa Claus' and feel free to even bring down the entire family and your friends to get into the Christmas spirit!