AD in action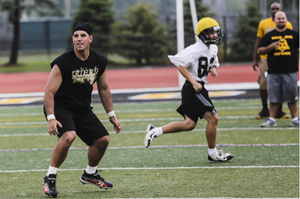 Steve Millsaps is taking his involvement as Athletic Director to a whole new level. He has been making it clear that he will do anything to promote and motive his athletes at Joliet West. Millsaps has been participating in a practice with each of his varsity teams. He recently completed all the fall sports and is intending to continue this activity in the spring.
Millsaps stated to Curt Herron of the Joliet Herald, "Some things were tough, like trying to run half-mile repeats in the humidity in cross country. But I was able to complete all of the workouts, and I think that the kids respected that. I wasn't trying to be the best player out there, I was just trying to complete it. I try to be an example and a leader for my coaches in trying different things. I think seeing their athletic director doing stuff like this gets them motivated to be more involved." Most athletes agree that they enjoyed seeing Millsaps out participating with them. Courtney Rubino, a junior cross country runner stated, "Seeing Millsaps run with us was very interesting, but it was awesome the he was showing interest in what we were doing as runners."
When asked why he started this new activity Millsaps stated, "There was an article in an athletic director's magazine that my buddy, Lockport coach Andy Satunas, sent to me last year about an athletic director who did this, and I thought that it was a good idea," Millsaps continued. "Since I'm young enough, I thought that I could still do it because I try to work out every day. And obviously, it's kind of a different way to evaluate my coaches and to also build relationships with the kids".