Meet your new number two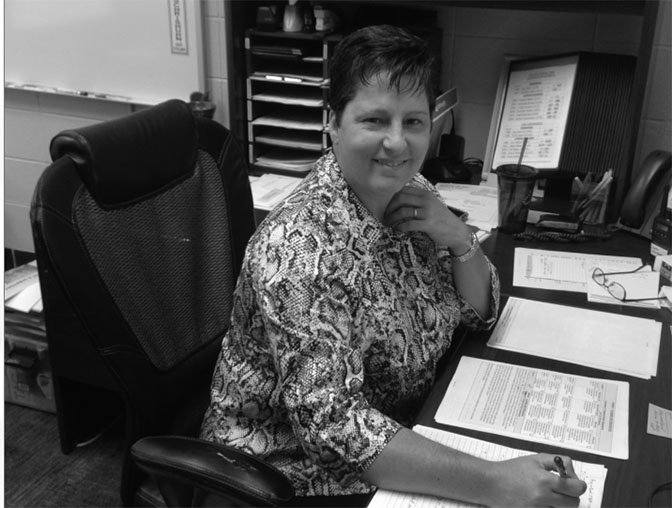 As many students may have noticed, a familiar Joliet West High School face has been missing in the hallways this year. Mr. Jeff Clinton, former assistant principal, has moved to California. . Mr. Clinton worked at West as a teacher for nine years, and an assistant principal for five years. Mr. Clinton was an outstanding teacher and administrator who brought great leadership to Joliet West and will be dearly missed.
This year Ms. Terri R. Schrishuhn will be joining Mr. Hallihan as Dr. Gibson's new number two. Ms. Schrishuhn was formerly a Joliet West Academy of Arts & Communication Director as well as the facilities manager. She has worked at West for 10 years, and brings a large array of skills to the assistant principal position. She started her career at West as a physical education teacher and girls' basketball coach in 2004-2005. Ms. Schrishuhn attended Millikin College and received a degree in physical education. She also has a master's degree in coaching from Smith College, and a master's degree in administration from Governors College. When asked what experiences have prepared her for this job she responded with, "Years of experience and fabulous colleagues and supervisors who have been willing to teach me how to be a good leader."
Ms. Schrishuhn highlighted how, as an assistant principal, she wants to change "peoples' perception" of Joliet West; by showing the community that west has numerous opportunities for students to challenge themselves academically as well as actively participate in school life. She says that Joliet Wests strongest asset is the dedicated faculty and staff, who are here to support students and help them reach their full academic and social potential. Ms. Schrishuhn acknowledges the challenges of managing her new position, but is also excited to be able to continue to work with the faculty, staff, students and parents in a new capacity.
Doctor Gibson offered a quote on Ms. Schrishuhn joining her administration team saying, "I have worked with Ms. Schrishuhn for 10 years now, and I am excited to have her as Joliet West's newest assistant principal."