Courtyards: What's with them anyway?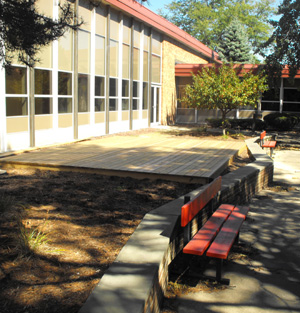 Passing the main courtyard next to the auditorium, students may notice that a new addition has been added. A new stage has been built, and it seems it has created a bit of controversy about courtyards.
West has multiple courtyards, but they are never used. Students question the purpose behind them. Why do we have them when no one goes in them?
"We have the courtyards as a way to get drainage out. It drains into the grass or stones, and doesn't let our school flood because of these courtyards," Mrs. Gibson, Principal says in the interview concerning the reasoning behind West's concern over not using the courtyards.
When the question was asked about overpopulation, she explained that filling in the courtyards with classrooms would not bring on more space. "One courtyard alone would barely fit two classrooms. We do have available classrooms still in our school. With the new addition, we're adding on 16 new science classrooms." Gibson explained that adding on another building was the only option when measuring the biology labs. "They're too small to remodel."
Gibson hopes that, in the next few years, a reward system will be put to use. "We want the seniors to have a place of their own, and we hope to make the main courtyard a privilege to hang out in."
So why is there a stage? Senior, A.J Galli, approached Mrs. Gibson last year, and asked if there were any projects he could do for the school. "After a meeting with Mrs. Gibson," A.J. recalls, "she told me that Mr. Boles wanted to do something with that courtyard. After a meeting with Mr. Boles, we decided on the courtyard."
Another controversy is whether or not Galli was provided with a source of income from the school. Gibson claims Galli gathered money to pay for the stage on his own, but the school covered the deficit. Galli claims, however, that the school didn't pay him anything, and that he paid his income through community donations.
Will this stage bring popularity to the courtyards? Mrs. Gibson hopes so. "This was built in the perfect time," she laughed. "With the split between West and Central, we can have the opportunity to host Speech competitions, or other ensembles! They can use the outside area for a place to perform or practice." Many groups have already taken an interest already in the new, small environment. Groups such as the drama classes, the choir classes, Gospel Choir and possibly the jazz bands are interested in using the stage.
If interested in getting to be in the courtyard, students must have a supervisor at all times. "Any student can go into the courtyards," Gibson tells. "They just need a supervisor, and that's our problem with the courtyard uses. I'm hoping with this stage, it will enhance the many programs we have here, and improve faculty expansion on wanting to use them."