Scream: The terrifying return of a cult classic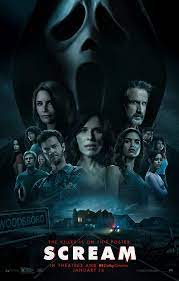 [SPOILERS]
After an 11 year gap since the last movie Sydney Prescott is back again in the 2022 Scream quintet. The first Scream was about a 17 year old girl Sidney Prescott who was terrorized by a ghostface killer. At the end of the movie it was revealed that there were actually two killers, Billy Loomis (Sidney's boyfriend) and Stu Macher (Sidney's friend). The rest of the Scream movies were about copycat ghostface killers who tried to reenact the original murders.
In the 2022 newest addition to the Scream franchise ghostface is back and he targets Tara Carpenter (a new
addition to the cast) and her sister Sam (Melissa Barrera). Tara and Sam fight for their lives while trying to simultaneously discover who's the killer.
Despite the Scream 5 being a sequel the movie ironically makes constant jabs at sequels being significantly worse than their originals by referencing the "Stab" movies. Mindy Meeks (Randy Meeks niece) mentions how the Stab
sequels were notably worse than the original Stab 1. This made fans of Stab angry and this fueled toxic fan culture ultimately laying the groundwork for a new Ghostface to create a movie requel. As explained by Mindy a requel is a mixture of a sequel and remake of a movie that stays true to the original storyline. Examples of requels are Star
Wars: The Force Awakens and the 2016 film Batman v Superman: The Dawn of Justice.
At the end of the movie the killers are revealed to be Amber Freeman (Tara's best friend) and Kirsch (Sam's boyfriend). Kirsch and Amber are both die hard Stab fans who despised the Stab sequels so much so that they
attempted to make a real life Stab requel by murdering Sam and Tara's friends.
During the movie I was constantly at the edge of my seat trying to find out 'whodunnit'. Just as I thought I knew who the killer was, that character was killed off or set up as a red herring.
In comparison to the previous Screams this one was a refreshing take on the usual copycat ghostface murders due
to the new set of protagonists alongside the original cast. It was nice to see new people survive for once especially
since Scream is notorious for killing off any new characters.