The Costly Price of Streaming Services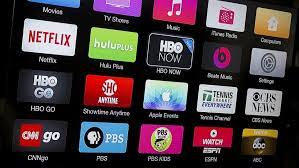 It seems that every month a new streaming service is launched, and everyone rushes to the app store to subscribe. However, when it all adds up how much are we really paying for these services? In the end, are these services equaling out in price to the now-forgotten cable?
According to Reviews.org, in total, the average American is spending $39.96 a month on streaming services. This price can grow even higher with paying for bigger family subscriptions.
Some of the most popular and subscribed to services include Netflix, Disney+, Hulu, and Amazon Prime. These are just a few many people subscribe to monthly, but new services keep surfacing with some of the newest services including Discovery+ and Paramount+.
Discovery+ was launched on January 4, 2021, and includes popular channels like Animal Planet, TLC, HGTV, Food Network, and more! The cost is $4.99 a month, but if you want to remove ads it will cost $6.99 a month. The new Paramount+ was launched just a few weeks ago on March 4th including CBS, BET, Nickelodeon, Comedy Central, MTV, and the Smithsonian Channel. This service is at a monthly cost of $5.99 with ads, and once again $9.99 without ads. This channel also includes some Paramount movies but doesn't have all of the popular TV shows from the channels intertwined with the subscription.
However, when it comes to current subscriptions one local Joliet family said, "We use Disney+, Netflix, Hulu, Amazon Prime, and HBOMax along with cable. I'm not sure how much we spend monthly, but it can add up especially with family subscriptions."
Though these services are nice as they often provide shows without commercials, unlike cable, they can become costly when multiple subscriptions are purchased. For monthly cable through Comcast Xfinity, one will pay roughly $34.99 – $49.99 according to Reviews.org. Though if you were to add a total of 4-5 services for a family including premium Netflix at $17.99, the Disney Plus, ESPN, and Hulu bundle at $12.99, and an Amazon Prime account at $12.99, the total comes to be $43.97. This price is just short of higher cable packages and doesn't include all services, only the most popular ones.
This brings back the question: are streaming services really worth more than cable? Well, it depends on who you speak with. Either way it seems that the cost tends to equal out and it becomes a choice of preference, but don't forget that internet bill you have to pay to make those services work which will only raise the price again.