Overcoming Love with a Happy Twist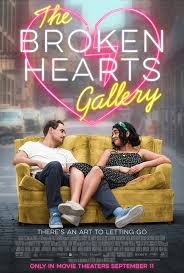 With the pandemic hitting another high as the year 2020 comes to an end, the film business is finding itself at another low point. Even with movie theaters opening back up numbers are low, but that doesn't mean the movies that are being released aren't worth the watch. The Broken Hearts Gallery directed and written by Natalie Krinsky, starring the fantastic duo of leading actors Dacre Montgomery and Geraldine Viswanathan, is the perfect uplifting tale needed to boost anyone's serotonin levels. 
The story overall is about Viswanathan's character, Lucy, trying to get over her most recent devastation of a breakup and conquering her negative coping mechanisms. She begins the film with a harsh break up with her boyfriend in a very public and embarrassing encounter. Then enters Montgomery's character, Nick, who offers Lucy a ride home after she mistook him for the Lyft driver she ordered. They end the night not expecting to reconnect, but as a rom-com always does, their paths meet again and a friendship starts to form.  Lucy gets involved in Nick's own heartbreak project of a mysterious hotel and in return, he lends space for her art gallery. The gallery consisting of not only her memorabilia of past relationships but pieces also collected by other citizens of New York City who are holding on to past relationships as well. 
It's a touching film that highlights the importance of moving on with its beautiful setting selected and creative memos added throughout the film. Krinsky captures the story with stunning camera work that allows the viewers to fully experience the gallery as if it is one they are walking through themselves. This is even more fulfilled with an outstanding cast performance that also featured stunning performances from Phillipa Soo, Molly Gordon, and Arturo Castro.
The performance can get saturating at times but keeps a smile on your face with just the right amount of cheesy elements. Geraldine Viswanathan has been making a rise in Hollywood and was the perfect fit for this role. She keeps it real and makes you feel like your one of Lucy's genuine friends as she exposes her most vulnerable parts. Her chemistry with co-star Dacre Montgomery is even more impressive as they convey such a playful relationship that gives off a very realistic scenario, unlike other films of the genre. Expert critic Molly Freeman even stated, "The Broken Hearts Gallery is overflowing with charm and personality, making it exactly the kind of fun, feel-good romantic comedy needed right now." The combination of great scriptwriting from Krinsky and the actor's outstanding performance is what makes this film stand out.
Then when it comes to the rating of the film it fits just right. They discuss different relationship aspects and show partial intimate moments, but is a great film for young women and older women looking for a great girl's night. It will keep you laughing and chatting about the things the friendship trio does that you do as well. This film has you laughing to the end and keeps a smile on your face when done. It is a great piece that lifts spirits in a rough time and is highly recommended to watch, if not in theaters then on Amazon Video. Overall, Broken Hearts Galley is a gem and will definitely be a newfound favorite to rom-com enthusiasts, so grab the popcorn or your preferred snack and enjoy this charismatic heartwarming story.