Operation: Escape Room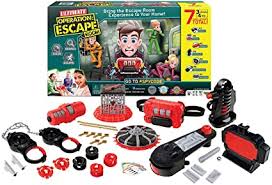 Time is running out. You are still trapped and need to escape. There is still one more challenge to go before you can safely rescue your sister who is tied up with the locked timer. 
Operation: Escape Room  is an excellent  indoor escape room game. In the game, there are three puzzles that need to be solved to "escape." Someone can be locked up, while others race to find the key in time. The goal is to escape before the time runs out. This game is user friendly and is great for kids ranging from ages seven and up, though the product is mostly aimed at pre-teens. 
This escape room  has a fun design on the box which intrigues kids, and even adults! It is also reasonably priced, around twenty dollars. Though the price may be low, the quality is not. This game holds up very well, and can be played any number of times. It is a great way to spend a rainy day. 
The pros of this product include its durability, all members of the family can participate, it's an awesome way to spend the day, and it is easy to pull out and clean up. The cons are that once the game is assembled not all the pieces can fit back in the box, and it is the same game over and over again. The game can be elevated by hiding the challenges around a room or shortening the amount of time to escape.
This game is really the only one of its kind that can include all family members and friends. Also, the fact that it can be played more than once is something that is not seen very often. I would recommend this game to anyone who has children that need something enjoyable to do. It holds up well, and one to four people can play it. I would rate Operation: Escape Room five out of five stars.