K-Pop's Semicolon packs a punch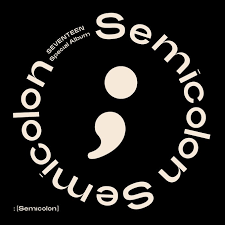 Ever since 2015, K-pop group seventeen has become one of the biggest faces in K-pop debuting with their hit song, Adore U (아낀다). Known for their flawless choreography, worked on by seventeen performance teams (Jun, Hoshi, the8, and Dino) and the producer of their team, Woozi. The groups have always been praised for the versatility in being able to pull of many different concepts effortlessly now  The 5-year-old group has come back to the K-pop scene after 4 months since there last Korean release "heng:garae" on June 2020 with there title track "left and right" being one of the groups best-selling albums as of 2020. finally, The group is back with their EP [semicolon] and their title track "homerun", showing multiple sides of seventeen with a spin to their new album.                 
Seventeen's special album "semicolon" was released on October 19th of 2020 with their title track "home; run" living up to their name "the theater kids of K-pop" with a retro more vintage style, proving they are kings of versatility.
Starting with "home; run" an upbeat song with a little bit of jazz, in the beginning, to start it off. Written by member Woozi, Vernon, and seungkwan the songs is all about being yourself and letting go as said in the lyrics "toward the sky give it away give it away Bba! Just be yourself what are you so worried about? Hit it further further away up into the sky yeah eh eh home run again home run" what makes seventeen unique from others is their authenticity when it comes to writing their lyrics because it's them, they are their music. "We get inspired from all aspects of our daily lives rather than from a particular thing. It could be a note I wrote down while talking to my members. I think that the various stories and ideas collected from our daily lives help us create music that many people can relate to." – Woozi. Although the song tends to follow in the footsteps of seventeen's "left and right" that talks about the youth and its ability to do anything if they don't give up, "home; run" is particularly different because its more comfort than motivation they talk about how it's okay to take a break and to take a moment from achieving your dream.
Just like the title track "do re mi " a song written by seventeen's 3 youngest members Seungkwan, Vernon, and Dino, the song is a comforting one with an even more upbeat sound to it. The song is about being able to take a break, that they (seventeen) support you no matter what and that it's okay to take it slow, there's no rush.  "We wanted to encourage the youths who needed to hear, "It's okay to take a break, and it's not a waste of time, but a process to prepare for the next step in your journey,"- Vernon 
3rd up is seventeen's "hey buddy" written by seventeen '97 line and Woozi. The song again talks about taking a breather to go outside and play, to forget about everything, to ignore the little things, to have fun at whatever cost. As said in the lyrics " as I walked in the street, I got caught in a stone even if it hurts, I feel not bad (not bad) I need to fix my sneakers people don't care (no)" it seems the members liked sending this message out, to never give up, to take a break. " We wanted to encourage the youths who needed to hear, "It's okay to take a break, and it's not a waste of time, but a process to prepare for the next step in your journey,"- Mingyu on whether writing the album was difficult or not.
Up next is 마음에 불을 지펴 (light a flame), the song is sung by seventeens '96 liners, Jun, Hoshi, Wonwoo, and Woozi.  the song has a hint of jazz in it making it the one the most unique in this album. Members Hoshi, Wonwoo, and Woozi took part in the making of the song. Unlike the other songs so far light a flame talks about love using the term "light a flame in your heart" as a way to describe the moment two lovers fall in love. The song is something you would hear in an old fashioned romance movie where 2 lovers meet and dance until they can't anymore and that's practically the setting the song leads you into. As many may have noticed by now, there are age units which is something the group has never done. Normally the groups went by units but in a different way. First, the hip hop unit consists of the group's rappers s coups, Wonwoo, Mingyu, and Vernon. The group's performance team is in charge of dance, Jun, Hoshi, the8, and Dino. The group's vocalists, Jeong Han, Joshua, Woozi, DK, and Seungkwan. The group uses these units to release music more their style, So it's interesting to see something. Specifically, member Woozi has explained that because they are all the same its makes it more fun "We exchanged a lot of ideas and had a good time working with each other" said Woozi. The album is unlike any other because we've seen units before but never dived by age its an interesting concept but fits well with the group's message.
Finally, just like light a flame, "ah! Love" and "all my love" talk about, you guessed it, love. Both songs are comforting songs that talk about the love only one person can give. "Ah! Love" sung by seventeen oldest members ('95 liners) Scoups, Jeong Han and Joshua. Written by Scoups, Jeong Han, Joshua, and Woozi. The song talks about the feelings of love and only being able to explain it as "love is you" as we hear in hook member Joshua has an addicting part to the song that carats, seventeen's fanbase, can't help but notice how well the song suits him. The lyrics go like "Ah! Love, You Ah! Love, Me (Babe) I love you (Ah) words that contain my rising heart Ah! Love is you". "`All My Love " is the final track of semicolon sung by all members of seventeen's and written by members woozi, seungkwan, and Vernon. The song is a ballad type of song, a love song that talks about a lover they explain their feelings of not feeling good enough to the person they love, that sometimes they don't know what to do and because of that they're thankful for you, for staying by their side through everything. The song is written for comfort and is written in 2nd person to make the listener feel loved. 
Overall, this has been one of seventeen's most notable years, achieving so much in just one year, topping charts, winning award after award. But what makes this year so different is being far apart but feeling so close. They did a splendid job when it came to sending out their message to the youth, from what has been taken from this album is to take it slow, your dream will come eventually but also to love to find your happy place at your speed. Every song on the album does a great job sending its message in many different sounds and genres, proving they are indeed kings of versatility. "We made this album, ; [Semicolon], to give youth who are constantly on the move a chance to "take a brief moment to breathe" and "laugh and let loose." Therefore, our goal for this album is to provide a short yet powerful resting place for today's youth who are always doing their best. I have a feeling it will become an "Album for Youth" that can comfort and connect young people." – scoups and indeed it was, it was an album for the youth to be comforted by, the youth needs it especially since the COVID-19 pandemic. Kids and teens don't know how to cope with loneliness, stress, depression, etc, in the ways adults have learned to throughout. The album was needed and had bought a very well needed message to the youth, the future. 
You can stream seventeen's new mini-album "semicolon" on Spotify: Here.
You can watch seventeens Home; Run music video: Here