I have "Good News", the new Megan Thee Stallion album is a hit!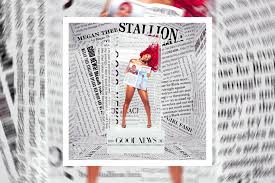 2020 has been tough for all of us and, in addition to all the political, social, and pandemic-led upheavals, Houston rapper Megan Thee Stallion has endured some extreme personal hardship. Her July shooting was well reported (she was shot in both feet and claimed on Instagram that rapper Tory Lanez was the one to blame) and, despite all the criticism she endured, the 25-year-old 'Houston Hottie' – as she likes to be known – finally gives us some 'Good News' in the form of her debut studio album.
So on her latest release Good News, after some scathing record-straightening on "Shots Fired" over the same sample Biggie used in his alleged Tupac taunt "Who Shot Ya?" and more nebulous grievance-airing (fake friends and pesky men) over the New Orleans bounce of "Circles," Megan turns her attention to more pressing matters.  
Once she moves on from this summer's shooting, she rarely looks back. Her beats are more playful and poppier than ever but anchored in rap and R&B staples. Her rapping is still razor-sharp, littered with punchlines that make your ears perk and jaw drop. Her attitude is unexpectedly chipper. In a year in which a virus, a man, and a cadre of misogynistic spectators could have killed her, Good News is a celebration of life.
Even as Megan experiments with sounds that appeal to a wider audience, her hip-hop traditionalism remains undeniable. A handful of hooks spread across Good News feel simple but strategic—they'll stay in your head and roll off your tongue. "Body-ody-ody-ody-ody-ody-ody-ody," is one of my favorites. 
Her verses though are somehow smooth and sharp. Whether she's referencing island-exclusive cognac on a dancehall song with Popcaan ("Intercourse") or trading disses with City Girls ("Do It on the Tip"), her wit and delivery are incomparable. This album has the most features of her career and when she gets a rap assist—like on "Movie" with Lil Durk or "Cry Baby" with DaBaby—she does her hardest work, fueled by collaboration (or more likely, competition).
Assertive, white-hot bars are Megan Thee Stallion's core strength, and the further she strays from that, the shakier the song sometimes gets. The choruses here are hit or miss. The chorus to "Freaky Girl" featuring SZA is one of the good ones but her solo song "Don't Rock Me to Sleep" has a chorus that sounds like something you'd sing to a baby, "Blah, blah, blah / La, la, la / If you wanna leave, then bye, bye, bye."
Otherwise, Good News is raunchy, carefree fun, perfect getting-ready-for-the-club music (… if only going to the club was a good idea right now, though it's not like I could get in anyways).
Megan Thee Stallion has handled a difficult year with a perfect combination of grace, strong activism for Black women, and patronizing clapback's. Her music can be as flawless as her media skills if she can ease the tendency to push her voice to its limits, or on the other hand if she calls vocal coaches and pop-music experts to help recognize those R&B aspirations and to fine-tune those hooks. As was the case with Suga -her previous project- Good News seems like a transitional project; it's just not as clear where the artist is heading.