Evermore Review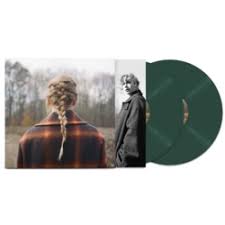 Taylor Swift released her new surprise album Evermore, which is a sister album to her July release Folklore. There are 15 songs which are perfect for the fall or winter time. There are two bonus songs "right where you left me" and "it's time to go" on the physical album which are not included in the digital version.  
The songs on Evermore are very similar to Folklore with darker, colder lyrics. Even though some lyrics are on the darker side, there are more beautiful, enchanting piano ballads throughout the album. Evermore is an alternative style which is different from Swift's earlier pop albums such as 1989 and country albums such as Fearless. She says "To put it plainly, we just couldn't stop writing songs." This is why this album is released so closely to the previous album.
Evermore's album cover is Swift looking out into a forest in the distance. It represents the album perfectly from the songs having a cold forest vibe in them. Additionally, Swift keeps this forest theme going in her music video for the song "willow" where viewers watch her transition from Folklore's "cardigan" theme to Evermore's enchanting forest.
All of the songs on Evermore are a mythical story that she tells within her music which started in Folklore and continues through the new album. This speaks volumes about the creativity and fascinating songwriting that Taylor Swift presents in her lyrics.        
Track twelve "long story short" stands out from the rest of the album from it having more beats than the other songs. It also has catchy lyrics which hint on some Disney fairytales, such as Cinderella when Swift sings the lyrics, "If the shoe fits, walk in it," and Alice in Wonderland with the lyrics "right down the rabbit hole." This song shows the storytelling in tune with bringing up childhood tales.
This is a well written album, which is one of the reasons I enjoy this album. However, some of the slower songs make me miss listening to Swift's past fast-paced, make you want to "Shake It Off" music. The beautiful melodies of this album do still pull at my heartstrings though.  One of my favorite songs is "gold rush"  because of the instrumentals. I also like it because of the mysterious lyrics that make you wonder how a person creates this story.  
The album overall is charming and makes you want to keep listening to the story over and over. Evermore was released perfect for the time when people need music to help them most. This warming album was a way of keeping spirits up for the holiday season. Swift helps give her audience a story to end the year off right.