Looking for a good read? Let's Talk Books!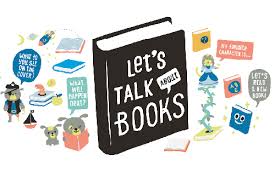 Good books are hard to come by but I have created a list of which books I found and other people found truly moving, interesting, and amazing. There are three books in each of the four genres. The genres are young adult, fantasy, horror, and realistic fiction. 
Young Adult: 
"Emmy and Oliver" by Robin Benway: Emmy and Oliver were best friends until Oliver moved away. Later in Emmy's high school life, Oliver returns home. Oliver isn't the same boy anymore. He has a reputation, he's the boy who was kidnapped. Emmy wants to pick up where they left off but Oliver needs time to figure out what happened when his life messed up. Barnes and Noble readers have rated this book a 4.4 out of 5. I personally rate this a 4.7 out of 5. Readers claim it was "differently fascinating" and they "absolutely loved it".
"All the bright places" by Jennifer Niven: Theodore Finch is in love with death. He is always coming up with brand new ideas to kill himself. Just when he's about to do it, something good always stops him. Violet Markey loves looking toward the future. She wants to graduate and get out of her town in Indiana and wants to escape the grief of her sister's death. Violet and Theodore meet on top of a bell tower and no one knows who saved who. Then they get paired up on a "natural wonder" project about their state. While taking all these amazing road trips about fascinating discoveries, Theodore is suffering from his mental illness. As violet seems more happier, Theodore really begins to suffer. Barnes and Noble rates this book a 4.8  stars out of 5 starts and so do I. Readers claim it was "beautifully written" and they "loved it". 
"The Hate U Give" by Angie Thomas: Starr Carter is 16 years old. She goes to a fancy prep school and lives in her poor community. Everything loses its balance when Starr's life long best friend, Khalil, is shot by a white cop. He was unarmed. Headline's announce his death and everyone is taking different sides. There are protests to get justice for an unfair death and newsletters to justify a "drug dealers" death. Cops and the local drug lord are trying to intimidate Starr to find the real story. The only person alive who knows the truth is Starr Carter. Barnes and Nobles rates this a 5 stars out of 5 stars and I concur. Readers said they found it "powerful with a strong message" and called it "amazing and beautiful".
Fantasy: 
"The lion, the witch and the wardrobe" by C.S. Lewis: Lucy Pevensie finds a wardrobe in the professor's old house. She discovers that it leads to a secret world called Narnia. Her siblings don't believe her until they step through the wardrobe. They find that Narnia is under the rule of the evil White Witch. Then they meet the lion, Aslan, and discover they're to be part of the battle to take Narnia back. Barnes and Noble started it 4.5 stars out of 5. Readers claimed they "loved it!" and found it "amazing!". 
"Miss Peregrine's home for peculiar children" by Ransom Riggs: A family loss tragedy leads 16 year old Jacob on a journey to Wales. He then discovers the ruins of Miss Peregrine's home for peculiar children. He explores the empty house and discovers that the peculiar children might also have been dangerous. He finds out that they might also still be alive. Goodreads.com gives this book a 3.9 stars out of 5. Readers called it " creepy but not scary" and some just "loved it". 
"Harry Potter" series by J.K. Rowling: Harry Potter was raised by his muggle (non- magic people) aunt and uncle after the tragedy of losing both of his parents. His aunt and uncle along with his cousin treat him very very poorly. One day, he has been given a letter of acceptance from Hogwarts School of Witchcraft and Wizardry. His aunt and uncle try to prevent him from going but he finds ways to attend the school. He later finds out his parents were killed by the evil Lord Voldemort and that he is also very famous. Lord Voldemort keeps trying to find ways to come into power again but Harry always stops him. Lord Voldemort keeps trying to kill Harry. Barnes and Noble rates these books a 4.6 out of 5 stars. Readers call it " fantastic" and "adventurous". 
Horror:
"Asylum" by Madeleine Roux: 16 year old outcast Dan Crawford attends the New Hampshire College Prep and takes this as a new chance to finally make some friends. He later learns that his dorm used to be a sanatorium, also known as an asylum. Not just any asylum, it's the last resort for the criminally insane. Dan and his new friends Abby and Jordan explore the creepy dorm and find out that all three of them being together isn't a coincidence. The asylum holds key to a really terrifying past and some secrets that aren't going to stay hidden forever. Goodreads.com rates this book a 3.7 out of 5 stars. Readers called it "an enjoyable story with plot twists and an interesting conclusion" and "scary and creepy". 
"Bad girls don't die" by Katie Alender: Alexis thinks she lives a dysfunctional high school life with her parent's marriage, her anti-socialness, and her doll crazy little sister. Alexis starts to notice strange behavior in her little sister Kasey. Kasey's eyes start to change colors, uses really old fashioned language, loses chunks of her memory, and denies any strange behavior. Things start acting up around the house too. Doors start opening and closing, the house turns really cold, and things cook on an unlit stove. Alexis tries to dismiss all of it but the situations are turning life threatening. She knows Kasey can stop it but doesn't know if that thing that looks like her sister is her sister. 
"The dark descent of Elizabeth Frankenstein" by Keirsten White: Elizabeth Lavenza hasn't been fed a good meal in weeks. She's being abused by her "caregiver" and is going to be forced out on the streets until she is brought to the home of Victor Frankenstein. He's an introverted boy who has everything but a friend. Victor becomes her escape from her misery. She does everything to make herself necessary and it starts to work. She is taken in by the Frankenstein's and is given any luxury. Victor and Elizabeth become inseparable. She has to pay a price for her new life though. Her survival depends on managing Victor's temper and being at his every need no matter what but she'll do it all to stay alive. Barnes and Noble rates this book a 4.4 out of 5. Readers find it "thrilling and suspenseful" and they say they "loved it'. 
Realistic Fiction:
"The Lions of Little Rock" by Kristin Levine: Set in 1958, twelve year old Marlee doesn't have any friends. Then Liz transfers to her school. Liz is brave and bold and always stands up to Sally, the school's mean girl. Liz even helped Marlee get over her fear of speaking. Liz suddenly is gone and rumors are left behind that she was a black girl passing as a white girl. Marlee, shocked by those rumors, still decides that it doesn't matter. Marlee and Liz decide to stay friends no matter what anyone says or the trouble it brings. Barnes and Noble rates it a 4.7 out of 5 stars. Readers say it's "inspirational and touching" and "very lovely". 
"Piecing Me Together" by Renee Watson: Jade thinks that in order to be successful she needs to get out of her neighborhood. Her mother always says she needs to take every opportunity and Jade has. She goes to a white private school and signs up for Saturday test preps. She gets an invitation to a Woman to Woman program for at risk girls. She finds it an insult because she thinks it's really just for black girls in bad neighborhoods. She doesn't need support and just because her mentor is the same skin color it doesn't mean that she will understand her but maybe there are some things that these women can teach her. Barnes and Noble rate it a 4.5 out of 5 stars. Readers say it was "well-written" and "exquisite". 
"Long Way Down" by Jason Reynolds: Fifteen year old Will has a brother, Shawn, who just got shot. He knows the rules of the hood. No snitching, no crying, and revenge. He shoves a gun in the back of his jeans and takes the elevator down to get revenge on the guy he thinks shot his brother. Buck, Shawn's friend, stops on the elevator. He tells Will to check if the gun's loaded. A bullet is missing but the only one who could have used the gun is Shawn. Another thing is that Buck is dead. Throughout the stops on the elevator, people that Will once knew but are now dead, stop on the elevator. These "hauntings" help Will figure out if he's going to get revenge or get peace. Barnes and Noble rates this book a 4.7 out of 5 stars. Readers call this book "powerful" and "amazing".
Overall, there is something for everyone within these various genres. Check out your local library or the West library to reserve a book to read online.