The Half of It delivers a heartwarming, queer coming of age story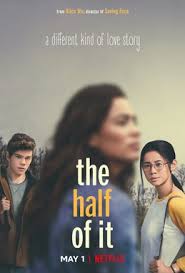 It's been 16 years since the release of director Alice Wu's Saving Face, giving the world one of the first (and best) romantic Asian queer comedies. Wu is back with the latest Netflix movie The Half of It, offering yet another poignant and warm-hearted coming of age story, this time in the form of a teen rom-com.
In the small, conservative fictional town of Squahamish, Washington, where life revolves around church and football season, Ellie Chu (Leah Lewis, in a breakout role) lives with her widowed father. Ellie is an immigrant and an outsider, smart, and emotionally mature well beyond her peers. She has a weariness to her that is the result of years of casual racism and dismissal from her town, where she writes essays to make some extra money from her fellow students.
Ellie is living a quiet life with low expectations when silly football player Paul (Daniel Diemer) hires her to rewrite her love letter to popular girl Aster (Alexxis Lemire). The film then falls within the lines of the many stories we 're familiar with about Cyrano de Bergerac. (Cyrano de Bergerac is a play portraying a tale of passion, deception, and beauty.) If this film had been made ten, twenty years earlier, the outcome would have been predictable: Paul discovers that Ellie is the girl for him, and they live happily ever after.
But the film, fortunately, evades this formula for something deeper and perhaps messier. As Ellie corresponds with Aster, though developing a true friendship with Paul, she finds herself falling for the object of Paul's affection. Ellie starts the film by saying, "This is not a story of love — or not one in which anyone gets what they want," and that promise is true. The film subtly defies standards for both rom-com and teen movies for a story that is refreshingly original and deeply relatable.
Too many teen films commit the sin of talking down to teenagers, reducing them to jock/nerd tropes, and restricting their experience. The characters in The Half of It are allowed to be more than just the stereotypes. Paul is a football player struggling to express himself, but he is also kind-hearted, funny, and passionate about cooking. Aster is a beautiful popular girl but has a complex relationship with her religion and desire to go to art school.
And the teenagers in this film are less concerned with prom or popularity but have serious discussions about their religion, their future, and the ways the small town tries to pigeonhole them. Wu expertly allows her characters to develop and evolve while remaining true to themselves. There are no makeovers and no "she 's hot without glasses!" moments.
The outcome is a profoundly felt, honest look at what it really means to come of age, and the weirdly complicated struggle that is adolescence and a deeper understanding of oneself. The Half of It is a sweet, thoughtful film, that is funny and full of lovable characters that you want to spend more time with.