Hey all you cool cats and kittens, 'Tiger King' is a must-watch during quarantine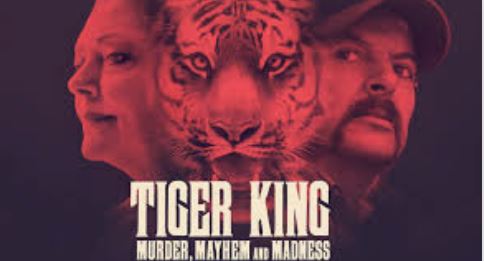 Hey all you cool cats and kittens! As people are spending some extra time indoors due to the recent outbreak of the Coronavirus, many are fighting their boredom by streaming new movies and TV shows. But no other show is being talked about as much as Netflix's latest seven-part docuseries Tiger King: Murder, Mayhem, and Madness. 
Tiger King, released on March 20, follows the bizarre world of big cat breeding, with equally bizarre leading personalities. First, we meet the unconventional zookeeper Joe Exotic, who previously owned and operated the Greater Wynnewood Exotic Animal Park located in Oklahoma. We are then introduced to Doc Antle, who owns and operates Myrtle Beach Safari in South Carolina. Both of these men have a common enemy: Carole Baskin. Baskin is a self-proclaimed animal rights activist, and her mission is to take down big cat zoos like Exotic and Antle's. She runs Big Cat Rescue located in Florida, and frankly, I thought that her operation wasn't much different than those of Exotic's and Antle's who she wanted to stop.
These eccentric, almost comical personalities of the show, along with their crazy stories, are probably the main reason for the show's success. Many viewers have taken their videos or memes to social media to share how crazy the show really is. Joliet West junior Kelly Rappaport gave her thoughts regarding the madness of the show stating, "Tiger King is one of the most chaotic things I've ever watched. Each person is so much larger than life that they feel more like characters from a movie than a documentary."
One of the craziest parts of the show is the conspiracy that Carole Baskin killed her late husband, Don Lewis, who disappeared in 1997. One of Joe Exotic's theories was that Baskin fed Lewis to her tigers. Despite how crazy the theories get, I think we can agree she definitely had something to do with his disappearance. Rappaport agreed that "Even if Carole didn't commit the crime, she was certainly involved." 
The release of Tiger King has had such a huge impact that Florida police have decided to reopen Lewis's missing person case after no one was charged or arrested for his disappearance when the case was previously opened. On March 30, Hillsborough County Sheriff Chad Chronister announced that they would reopen the case encouraging that, "People calling in with their perspectives may help our detectives see this through a different lens." Sophomore Haley Maser commented that she found it interesting that Lewis's case was being reopened as, "Tiger King made her appear really suspicious and dedicated a lot of time to that mystery in the show."
Believe it or not, Baskin's case doesn't even seem like the craziest part of the show at times. With so many crazy twists and turns, you'll have to see it for yourself.