Crossing into some normalcy to pass the time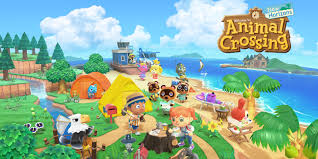 On Friday, March 20, 2020, the new installment in the Animal Crossing series, Animal Crossing: New Horizons, was released for the Nintendo Switch console. Animal Crossing is a game where your character lives in a town with a variety of animals. Within the game, you can do many things like fishing, bug catching, fossil collecting and much more. In the new game, you have the power of changing your personal island into whatever you want. Madyson Emory, a senior at Joliet West, says, "Animal Crossing helps bring people together because of how peaceful and relaxing it can be especially during our current situation. I can't emphasize enough how important it is since we have so little control right now." The game promotes a happy, care-free environment a lot of people may need at this time. 
Animal Crossing: New Horizons has a new feature of allowing up to 8 people to play together. Due to the recent quarantine guidelines restricting contact with groups of people outside of your house, this feature has changed the way people can interact. Recently, a post became popular online from a woman who had to cancel her upcoming wedding because of the virus. Her friends and fiance decided to surprise her by holding her wedding over Animal Crossing. Another post that went viral was of a 9-year-old girl named Sophia who had to cancel her birthday party, but her mom's friends decided to take it into their own hands and throw her party over Animal Crossing. Here they could give her presents, pop party poppers, listen to music, and play hide and seek with her. 
Not all things have to be negative in this confusing time. A lot of people are taking the events they had to cancel and using technology to bring those people together. Animal Crossing is just one of the games where this has been popularized. Mr. Mirus, a teacher at Joliet West, says, "Humanity will always find a way to come together. It could be a concert, a backyard BBQ, or a virtual game. It offers companionship and comfort."  Other games like Roblox and Minecraft are also a similar platform for hosting online events like these where many people can come together in a safe way.