To All the boys: P.S. I Still Love You movie review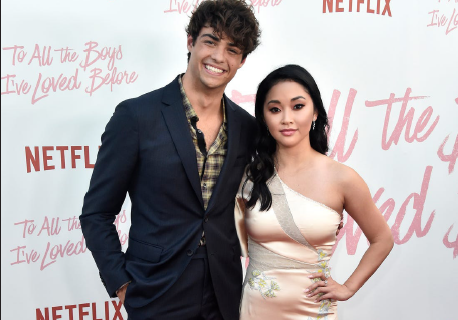 The second movie in the To All The Boys franchise came out on February 12, just in time for Valentine's Day. As expected, this rom-com blew the audience away with it's complex characters, heartwarming romance, and real depictions of relationships.
To All The Boys: P.S. I Still Love You is a continuation of the first movie, picking up right after Peter and Lara Jean get together. It starts off with Peter, played by Noah Centineo, and LJ, played by Lana Condor, happily in love, before she receives a letter from her old crush, John Ambrose. Things get even weirder when she and John Ambrose, played by Jordan Fisher, end up volunteering at the same place, and it's clear that he may still have feelings for her.
The whole movie is all about what happens after the cute couple gets together in the end. It's a refreshing change from the picture-perfect couples who never actually fight. The love triangle may have been a little unnecessary at first, but it allows for problems everyday couples suffer to come to light between Peter and LJ.
The best part of this franchise is that they don't only focus on one set of characters. There are multiple other relationships blooming throughout this movie, who get their own heartwarming scenes. Not to mention, we get more hilarious scenes with LJ and her little sister, Kitty, played by Anna Cathcart.
I had a hard time getting into the movie at first because of how rushed John Ambrose was into the series. His connection with LJ seemed to be forced, and too unnecessary. However, as the movie went on, that changed. John Ambrose became much more likeable, and every scene with him and Peter was always a hoot.
Although it can't possibly top the first one, To All The Boys: P.S. I Still Love You did a very good job of meeting the expectation the first film had set. All of the same characters were still in this movie, with some of them now getting more screen time. The humor could have been better in some of the scenes, but the movie as a whole did a good job of making it a comedic romance, rather than just a cliché romance.
The only thing I'm concerned about is the fact that this franchise would've been okay with just one movie, and there is already a third one in the works.
However, I can't judge the third movie before it comes out, and that shouldn't be a factor in my decisions about the second movie. So with that in mind, the sequel met and exceeded my expectations. With Valentine's Day right around the corner, it's the perfect rom-com to watch cuddled under the covers with some hot chocolate all night long.