Pan: Complications of a colored cast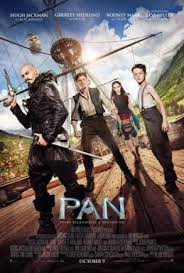 Pan is a new movie starring Hugh Jackman and Cara Delevingne as the big headliners, Levi Miller as Peter Pan, Garrett Hedlund as Captain Hook and Rooney Mara playing the Native American Princess Tiger Lily. As soon as the casting was announced, there was an outrage that was universal. Hollywood has been accused of "whitewashing" movies and their characters, from Tonto in Pirates of the Caribbean, to the Stonewall Riots, people of color are not used in the correct positions they should be in for movies.
Rooney Mara, a "lily-white" actress best known from her role in the 2011 remake of "The Girl with the Dragon Tattoo," was chosen by director Joe Wright to play the part of the Native American Princess, Tiger Lily. The biggest issue with this film? Tiger Lily is certainly not white, and the media has spoken out loudly about it, Entertainment Weekly being the first to report on the casting.
The portrayal of Native American has always been an issue, certainly in the media, and while Rooney is subject to many of the hateful comments about the role and her position in the movie, she is able to sympathize with those angry with the casting choices. Although she was aware of the controversy, she was willing to put it aside, still acknowledging it. "When I met with Joe and heard what his plans for it were, it was something I really wanted to be a part of," The actress says to a reporter of International Business Times.
When Joe Wright was asked about his casting choices for Tiger Lily, his defense is one that some may not find believable. "I thought about the idea of having a Native American Tribe, and that worried me actually. What would I be saying with that choice? So then I thought, 'Well, where should they be from?' And I couldn't decide, so I felt like picking just one race would be an unwise choice. So then I thought about them being the indigenous people of the (entire) planet." Wright reports to Daily News. While Pan is the not the first movie to be accused of "whitewashing" their cast, it may be many years before people of color are accurately represented.