Lady Gaga's "Til it Happens to You" hits home for many students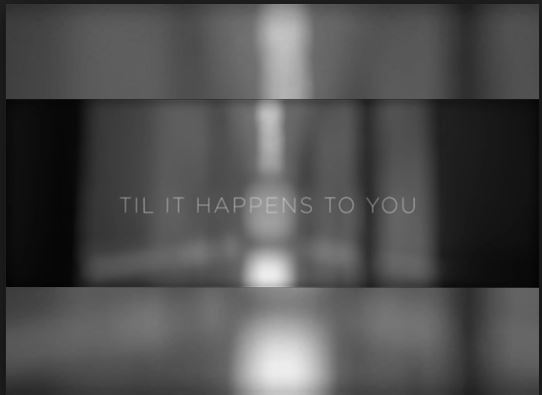 "Til it Happens to You" is a song written by Diane Warren and Lady Gaga. Lady Gaga sings the song, which focuses on the topic of sexual assault and how hard it's to understand what it's like to experience.
The video shows a warning in the start of it saying, "the following contains graphic content that may be emotionally unsettling but reflects the reality of what is happening daily on a college campus." After the warning, the slow song shows 4 different people experiencing sexual assault. One of them is being sexually assaulted by someone who they know, another by a stranger, and two girls being drugged and then sexually assaulted. After that, they then show the effects of the sexual assault, such as depression, self-hate, and feeling alone. Arms are pictured with messages written on them such as, "sometimes I hate myself", and I am worthless".
Then, the music starts to pick up pace and people come to help the victims by bringing them food and encouraging them to continue life. The hateful words that were written on the arms are replaced with, "Listen and you will hear me," "I am worthy" and "I love myself." The victims then walk down a campus hallway arm in arm with their friends and more people join them.
After the video is over, the statistic "One in five college women will be sexually assaulted this year until something changes," makes an appearance and is followed by a hotline number for sexual assault.
A link for "The Hunting Grounds" Facebook also is shown at the end of the video. "The Hunting Grounds" is the short film in which "Til it Happens to You" is in. The film is about college students who were sexually assaulted and work towards protecting other sexual assault victims whom the colleges were working against.
The ItsOnUs.org campaign is one against sexual assault. The website offers the chance to sign a pledge to keep women and men safe from sexual assault, and to not be a bystander.
The song is following the trend of Lady Gaga's new style, not a usual pop song.  She has a personal connection with the song. At 19 she was sexually assaulted by a record producer which, she revealed in 2014, on Howard Stern's radio show. What makes the song even better is it's speaking to a demographic of people who may feel alone after being sexually assaulted.