Poet Marty McConnell performs for JWHS students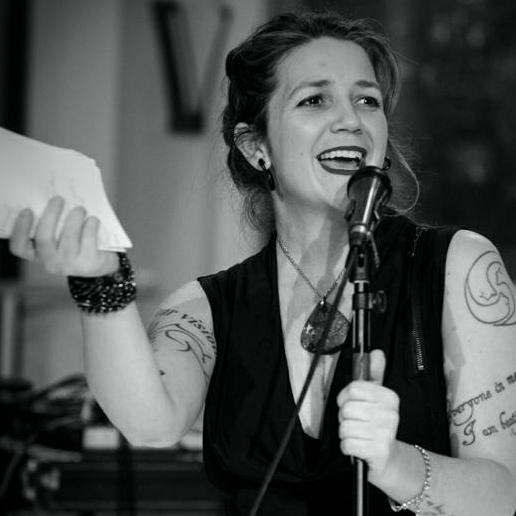 On Friday, April 30, 2015 poet Marty McConnell performed for Joliet West students during seventh and eighth period in the auditorium in honor of National Poetry Month.
AP English 3 teacher Mr. Eleveld organized the event and introduced McConnell to the audience. He referred to her as a "contemporary performance poet" who earned her Masters of Fine Arts degree at Sarah Lawrence College in New York.
During her college years, she toured coast-to-coast and participated in the spoken word television series known as the Def Poetry Jam. On top of this, she has participated in the Vote for Change Tour as well as the organization Urban Word, which helps young writers develop their work.
Eleveld also provided students with some history about poetry, sharing that slam poetry originated in Chicago in 1988.
The first poem that McConnell performed was separate from the poems in her book. Although no title was given, the piece addressed the idea that all people deserve to experience genuine love regardless of sexuality.
Her next poem was entitled, "When Your Grandmother Mistakes Your Girlfriend for a Man." It described the traditional views that her family attained, and how her 100-year-old grandmother expressed that McConnell's girlfriend seemed too much like a man to be a woman.
The third poem was called, "Lucky for the Last Dude Who Asked Why I'm So Angry," and it addressed the issue of sexual harassment. After a boy threatened to kiss her and told her to "take a joke" in elementary school, McConnell claimed that she came close to dying. "I'm the girl who got by unscaved," she stated.
She then performed, "Frida Kahlo to Marty McConnell," a persona poem that represented the thoughts of the well-known Mexican painter. It referenced Kahlo's toxic relationship with Diego Rivera. Many people have confused the poem with Kahlo's own words. "The whole thing is totally bizarre," remarked McConnell.
Her next poem, "I Will Not Surrender to History and Other Promises," dealt with the race issue within the United States. "I can't carve off this whiteness any more than I can bring back the dead," explained McConnell. She then apologized and surrendered to Walter Scott, Michael Brown, and Ferguson victims.
She finished the performance with two final poems. "White is not the Same as Invisible," attempted to define what "being white" means. Then, "Instructions for a Body," explained the features of the human body while exploring religion. "This is your warning. Do not let this universe regret you," McConnell declared.
To conclude, there was a brief Q&A session. When asked how she got into performance poetry, she said that theatre greatly influenced her. "I got to be on stage and writing, so I dove into it head-first," McConnell explained.
McConnell also addressed the idea of skin privilege. "I feel like utilizing my skin privilege is one of the only things I can do," she pointed out.
When the event ended, students loudly applauded McConnell and were given the opportunity to personally talk with her. The experience further cultured Joliet West students.