Rising Pop Star to perform at West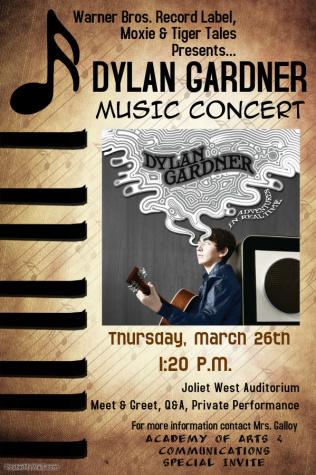 Dylan Gardner is an 18 year old boy with Illinois roots and a magical way with his voice. With inspiration from The Beatles, The beach Boys, Bob Dylan, The Rolling Stones, and The Doors, this upcoming star has a classic style and a timeless sonancy. Gardner is a new pop artist with an electric new sound and a lot of potential. While he is very talented vocally, as well as being proficient in many instruments; his well-rounded talents make his music have an edge that many other pop artists dream of having.
His first album, "Adventures in Real Time", consists of 10 songs with a good mix of upbeat and happy songs to a few slower songs. The album made me want to get up and dance by the second song. The songs are not 'mainstream' pop. He should not be in the same genre as some other artists. Dylan Gardner deserves his own genre. Dylan has a maturity that not many artists have at 18 years old, and he somehow uses his mature tone to pull in people of all ages. His style will hopefully intrigue large crowds and he will one day be a huge star.
If you listen closely to the lyrics, they are about dreams, goals, aspirations and love, like most music now a days, but the way the lyrics are presented set it apart from the rest. 'Let's get started' was his hit single from the album and racked 2.7 million Spotify plays. The first hit song has so much energy and light, it puts me in a great mood every time I listen to it. Every song is full of high-spirited energy you can't find anywhere else.
Dylan just recently got signed by the Warner Brothers in August of 2014. 'Being signed with such a historically recognized label is an honor', said Dylan in a previous interview. Dylan has an upcoming concert in the Chicago area as well. He is performing Thursday, March 26 at Beat Kitchen. Tickets are available through www.ticketfly.com. Dylan was born in Aurora, IL and raised in Plainfield, until his family moved to Arizona in 2010. Despite Dylan and his family currently living in Los Angeles, Dylan's dad, Mark Gardner, owns a music store in Naperville IL.
While currently out on tour, Dylan Gardner will be performing live on March 26 in the Joliet West auditorium, answering questions about his music career, and giving advice to students within the performing arts pathway of the Arts & Communications Academy. This is a great opportunity for students from the Academy of Arts and Communication to hear a young, rising musician, as well as to learn about his story. In a country full of music talent, few individuals are able to find such great success at such young age like Dylan has. He brings a wealth of knowledge that could possibly help any Joliet West students interested in studying music or the business of the industry.