Taylor Swift takes a Stand Against Spotify Streaming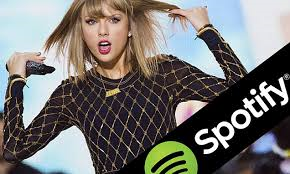 A week following Taylor Swift's release of her new pop album, 1989, the accomplished singer made the bold decision to pull all of her music from the music-streaming app known as Spotify. Rather than allowing her music to be listened to freely by users worldwide, Swift decided to induce an increase in sales by halting her support for Spotify.
Taylor Swift is not the first artist to stand up to Spotify's streaming of music. Last year, Thom Yorke of Radiohead pulled his own material from the app and similarly claimed that the application unfairly took away money from artists. Other musicians who refused to endorse Spotify include Justin Moore, Brantley Gilbert, Garth Brooks, AC/DC, Led Zeppelin, Bob Seger, and Tool. The several accusations of Spotify's unsatisfactory compensation is understandable, especially after Spotify revealed the substandard amount of money it pays labels.
In December of 2013, BBC News reported that Spotify pays record labels a mere $0.007 per stream of an artist's song. After that, record labels are responsible for paying their artists a portion of the profit. For some musicians, this diminutive amount of money is not comparable to their earnings from renowned platforms like iTunes. "Over the last year, what Spotify has paid is the equivalent of less than 50,000 albums sold," declared Scott Borchetta, who is accountable for discovering Swift through his label Big Machine Records.
Even though some fans were disappointed with Swift's actions, the celebrity remained firm with her decision. Regarding her choice, Swift released to Time Magazine, "[People] can still listen to my music if they get it on iTunes. I'm always up for trying something. And I tried it and I didn't like the way it felt. I think there should be an inherent value placed on art." She went on to say, "I think people should feel that there is a value to what musicians have created, and that's that."
After Swift pulled her music from Spotify, her YouTube views have nearly doubled. Her personal channel, as well as her Vevo channel, went from 12.5 million views to 24 million views during the first week of November. Then, by November 16, her number of views sky-rocketed to 35 million daily views.
Despite the backlash that the app has gotten, the global head of communications and public policy at Spotify, Jonathan Price, has continued to defend the application. He claimed, "Our users, both free and paid, have grown by more than 50 percent in the last year, which means that the run rate for artists of every level of popularity keeps climbing. And Taylor just put out a great record, so her popularity has grown too. We paid Taylor's label and publisher nearly half a million dollars in the month before she took her catalog down – without even having '1989' on our service – and that was only going to go up." The CEO of Spotify, Daniel Ek, added on by expressing, "We started Spotify because we love music and piracy was killing it. So all the talk swirling around lately about how Spotify is making money on the backs of artists upsets me big time."
Ultimately, Taylor Swift hopes to serve as an example to other musicians as she continues to top the charts and set records. Her argument that artwork deserves proper appreciation and compensation will force fans to purchase her music instead of listening to it cost-free. In the future, other singers will likely follow in Swift's footsteps and attempt to save the music industry from unjust infiltration.